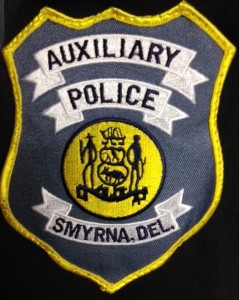 The Smyrna Police Citizens Auxiliary Patrol (CAP) program is compromised of men and women over the age of 18 from within the community who wish to volunteer thier time to assist the department in non-law enforcement duties. If you are interested in applying to volunteer please contact the Smyrna Police Department today!
Auxiliary Police provide extra "eyes and ears" for the Police Department by performing uniformed foot and vehicle patrols. They are trained to observe and report conditions requiring the services of the regular police. Whenever possible, they assist in non-enforcement and non-hazardous duties. The following are some areas in which the Auxiliary Police assist the Police Department:
•Residential and commercial areas
•Community festivals, parades, concerts, street fairs, park patrols
•Crime prevention activities
•Traffic control
REQUIREMENTS TO JOIN:
Applicants must be citizens of the United States.
Applicants must reside within fifteen (15) miles of the town limits of Smyrna.
Applicants must be at least eighteen years of age.
Applicants must possess good physical and mental health.
A high school diploma or equivalent is required.
Applicants must have a valid Delaware driver's license and good driving history.
A criminal arrest record may disqualify an applicant from further  consideration.
Applicants may not be affiliated with any subversive organizations.
Applicants must complete and sign a standard 'hold harmless' waiver.
Applicants must submit to and successfully pass a background investigation and must accurately, truthfully, and thoroughly complete a department Personal History Form.  Applicants or members will be immediately dropped from the program for non-compliance with this section.
Please complete the above application and turn into the Smyrna Police Department ATTN: Lt. Torrie James.